Is Sewer Line Replacement Covered By Homeowners Insurance?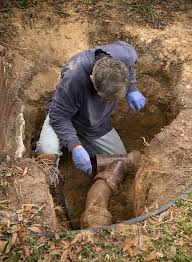 In most cases, homeowners don't notice clogged or damaged sewer lines until it causes problems in the house.
Sewage backup and horrid smells eventually result from sewer line problems, and by that time, you'll probably need to pay for repairs by a professional. When considering the costs, you might wonder, "Is sewer line replacement covered by homeowners insurance?".
Factors Affecting Sewer Line Replacement Insurance
The simplest way to answer the aforementioned question is "it depends". There are a number of factors to consider, and we'll go into more detail on those below.
Your Insurance Policy
The first factor to consider is your insurance policy.
By and large, most homeowners insurance policies don't cover normal wear and tear. This means if your sewer line was damaged due to lack of maintenance, you probably won't be covered.
Cause And Location Of Damage
On the other hand, if the pipes were damaged due to poor workmanship or if the problem is located within the boundaries of your home's foundation, you're more than likely covered with sewer line replacement insurance through your policy.
Damaged Vs. Clogged Pipes
Some policies cover damaged sewer lines. The key word here is "damaged."
If it's just clogged, it's likely excluded, but if there's actual damage to the line, there's a chance your policy will cover it.
It's important to review your specific policy when determining if you have sewer line replacement insurance.
Add-On Coverage
In addition, add-on coverage may help cover costs caused by the damaged line.
For instance, if a tree root broke your line and that resulted in water damage to your home from a sewage backup, an add-on policy could help with those additional costs.
If your policy includes a sewer and drain endorsement, you'll likely be able to get in-home damage covered as well.
Exceptions
It's important to note that most policies include exceptions to their normal coverage. This means even if your specific policy has sewer line replacement insurance coverage, a claim may be denied if the damage resulted from catastrophic events, such as flooding, earthquakes, and acts of God.
Fortunately, additional coverage may be purchased to cover some of these issues as well, often for a fairly low amount.
Even so, it's important to read these policies carefully to make sure you know what they exclude before purchasing.
Sewer Line Replacement Insurance Coverage
The actual cause of the sewer line problem plays a big role in whether or not it will be covered.
As mentioned already, if your sewer line was damaged as the result of regular wear and tear, you probably won't be covered, at least for the sewer line replacement itself.
However, additional damage to your home stemming from the problem could be if you have the right policy.
Damaged Lines
A damaged sewer line is more likely to qualify for insurance coverage than a clogged one, assuming that the damage resulted from something other than mold, catastrophic events, or regular wear.
For instance, if the damage is due to lack of maintenance, you probably won't be covered.
On the other hand, if your line was cracked or otherwise damaged by a tree root or some intentional act of another person, then you stand a better chance of having repairs covered.
Poor Workmanship
If your sewer line was damaged as the result of poor workmanship, then you're also more likely to be covered by homeowners insurance.
For example, if the line was installed in a way that would make breakage more likely, then most policies would cover it if it cracked and caused damage to your home.
Overall Cost And Additional Damage
Even if your policy would technically cover sewer line replacement, it doesn't kick in unless if the cost exceeds your deductible.
The higher your deductible, the more likely it will be that the repairs won't be covered by your policy.
Deductibles Vs. Sewer Line Replacement Costs
Since damage to a sewer line could require very costly repairs, your deductible may not actually be an issue, but it's worth checking just in case.
In a worst-case scenario, complex sewer line replacement could cost as much as $20,000, which far exceeds most deductibles.
Conversely, simpler repairs could cost far less, potentially coming out to less than what your policy would cover.
Covering Additional Damage With Sewer Line Replacement Insurance
As mentioned already, there will likely be additional damage to your home resulting from a broken sewer line.
As a broken line gets clogged by dirt, roots, and debris, you'll get sewage backed up into your home, leading to health hazards, water damage, and contaminants that may increase structural damage.
Your policy may cover this type of damage, but in many cases, you may be required to purchase add-on coverage such as sewer and drain backup endorsements.
Using Sewer Line Replacement Insurance
In the end, whether sewer line replacement insurance is included depends on the nature of the damage and how much coverage you have on your specific policy.
When in doubt, check with your provider. In addition, getting a quote from an expert plumber can help you get a good idea of what to expect.
Check out these articles related to sewer line replacement and repair: